A recently acquired GT3 for one of our very good clients came in for a mini restoration and thorough protection. He's a passionate Porsche collector which is always exciting for us to work with our clients that share the same passion and excitement about their vehicles as we do.
Main issues were a weathered clear bra that needed removal and re application as it was installed in the early 2000's with older technology film (Lots of distortion, Not Self Healing, etc.). This process took several hours as it would chip away in many small pieces, todays technology won't crack and fade overtime like this, but always proper care and maintenance is key.
Other issues were the paint condition, owner noted many swirl marks and light scratching throughout. This is very common especially for a vehicle of this caliber and age, oftentimes previous owners "love" their cars a little too much and this leads to them unknowingly causing some damage, but thankfully we are able to safely and effectively restore the paint back to better than new.
Finally, once the car has been prepped, clear bra'd and the paint surface brought back to near perfection the next step is proper protection. Wax and sealants offer good protection and they are better than leaving the paint bare. But, they are made of organic components and thus will weather and wear away fairly quickly from the paint surface resulting in weak durability, protection and will require consistent re-application. Modesta's line up of 100% in-organic nano glass coatings is a fantastic solution for protecting the paint work from the rigors of street or track driving. It bonds to form a thick and hard glass membrane on top of the clear coat which will not wear away like a wax or sealant would, offering stunning reflections and protection for up to 10 years.
After removal of the weathered partial clear bra kit, we corrected the rest of the front end. As you can see the clear bra did a great job of keeping the paint surface underneath in "Like new" condition. Unfortunately since it was only a partial kit, this meant the area without this protection took the full brunt of the elements and weathered unevenly. This required heavy compounding to recondition the surface before application of a full frontal coverage. We don't typically recommend partial coverage for this very reason, in addition with a full frontal coverage you don't get an unsightly line or risk paint damage above where the film starts.
Clear bra installation followed with complete coverage of the hood, fenders and front bumper.
We remove the headlights to wrap inside the edge, we custom wrap*the gas cap cover to wrap inside for a seamless and virtually invisible installation. We wrap edges inside the fenders near the A-Pillars, inside the fenders near the door and everywhere else possible. We even remove the Porsche badge to wrap underneath, its the little things that take an otherwise good installation to the next level and what separates us from the rest.
After installation we pull the vehicle outside to check everything and to allow the film to cure.
After clear bra installation our Level 2 paint correction process followed, as you can see there are various defects needing proper removal.
Paint measurements are always taken prior to polishing to ensure healthy paint levels. The paint read a little lower than we would have liked to see, so we had to take a slightly less aggressive process to ensure we don't remove as much material to preserve the life of the paint for many years to come. This is also why clear bra and Modesta coatings are so crucial as they add measurable thickness in the form of durable protection to shield the paint from the elements.
Areas with clear bra read significantly higher!
Checking our correction level with LED lights.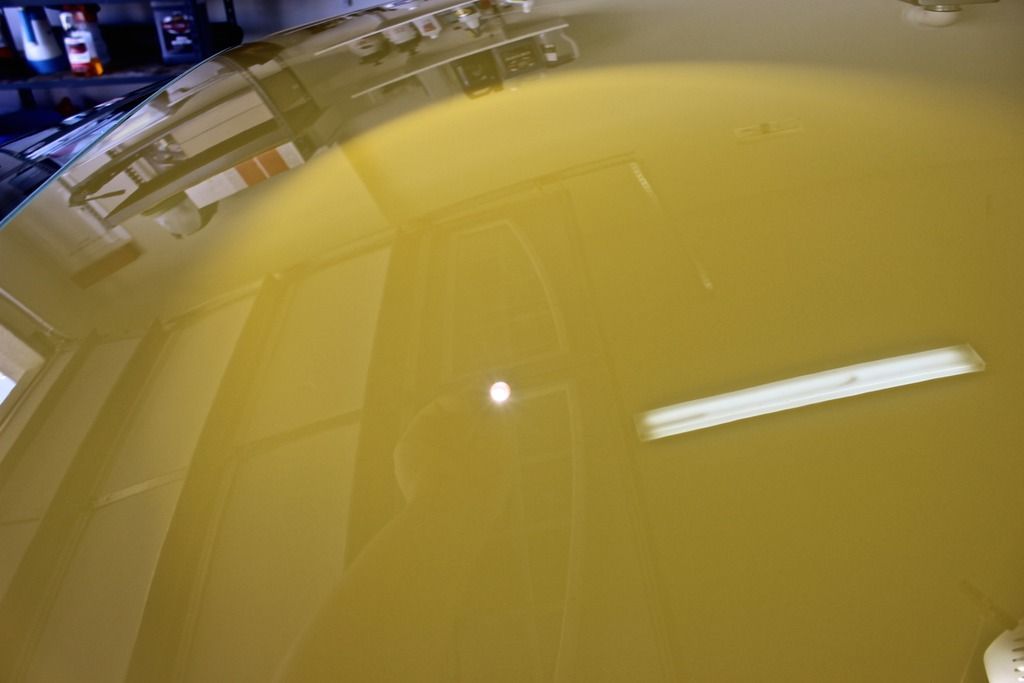 After correction and final polishing the vehicle is cleaned using a gentle alcohol based cleanser in preparation for Modesta's P-01A Primer coating application. This is the first layer of three that comprises the entire glass membrane, this alone adds up to 10 Microns to the paint surface.
The stunning reflections already show through after just Modesta P-01a application.
After Modesta P-01a is left to cure overnight, Modesta BC-04 Nano Titanium glass coating is applied. We then use Infrared Cure lamps to properly bond the coating to the paint surface.
Finally the car is now protected and ready to hit the streets, every surface is now cleaned, reconditioned and protected.
Thanks for viewing,
Tim Coats
Owner, Adonis Detail
Direct: 760-815-5933
[email protected]
www.adonisdetail.com