One of the most sought after 911's recently has been the 991 GT3RS. The performance and hype around this car are larger than life. We at Adonis Detail had the privilege of working on a gorgeous Lava Orange GT3RS recently.
The owner trailored the car to us to work its magic. Many of our clients go this route, even before they get the opportunity to drive the vehicle! This reduces the risk of any potential damage occurring prior to the clear bra and nano coating applications.
Services Performed:
-Level 1 polish to brighten paintwork and prep for clear bra application
-Moderate full body wrap in Xpel Ultimate protection film
-Nano coating application to full body, wheels and interior surfaces
-ClearPlex windshield protection
GT3RS prepped for wash/decon process
Xpel software template design process
Factory DA sanding scratches
Level 1 correction to brighten paintwork
Level 1 correction to brighten paintwork
Paint finish after polishing processes
Paint finish after polishing processes
Wash/Decon process to prep for clear bra application throughout. This step is crucial in order to ensure a clean and consistent installation.
Clear bra installation begins working from the top down, first order was protecting the rear wing.
Mirrors are done in one piece custom, this ensure the maximum coverage possible without a visible seam.
Hood is done custom as well, this way we are able to further extend coverage to wrap edges and corners how we see best fit.
Edge wrapped and trimmed precisely.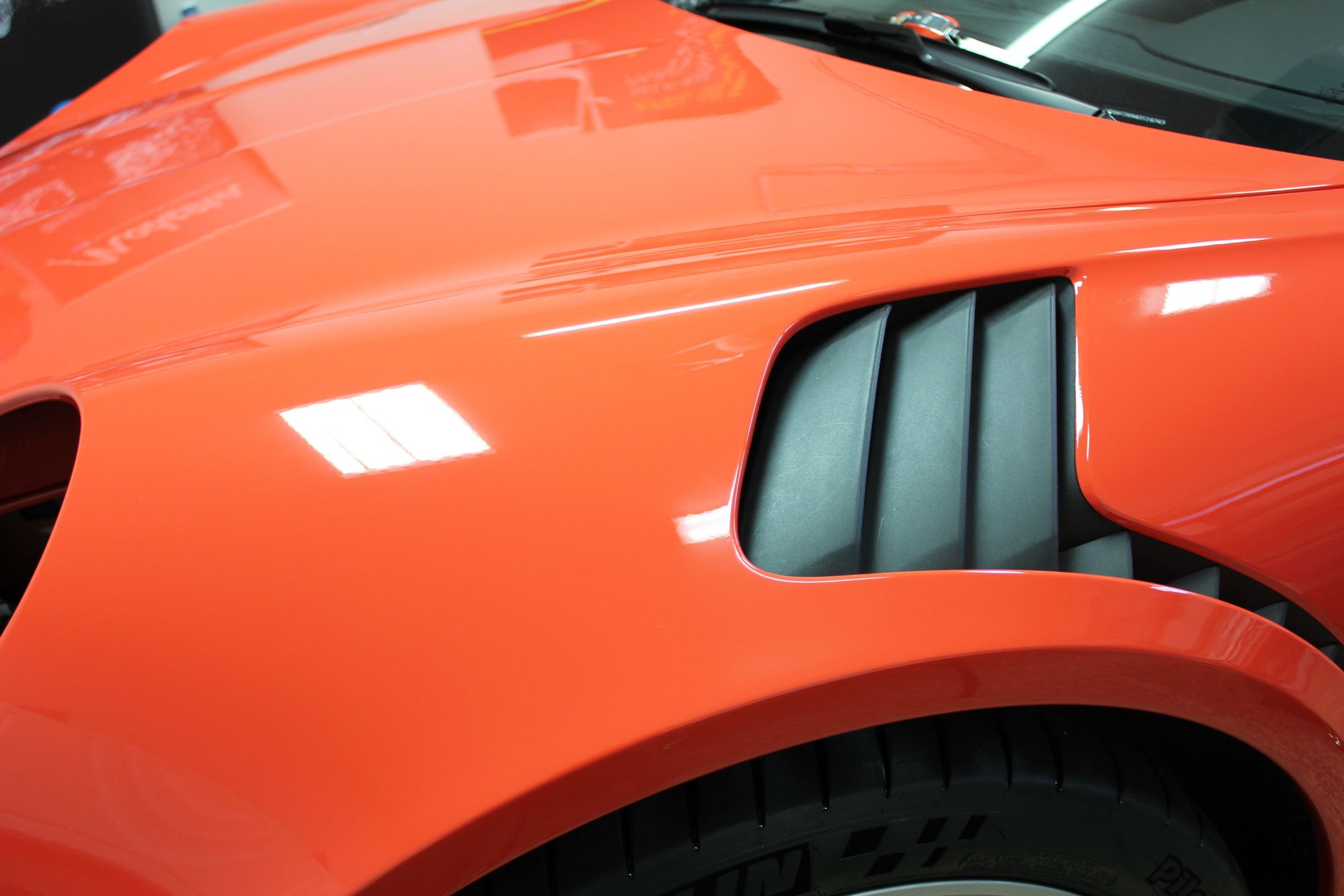 Although the Xpel software does a great job with its template designs. We decided the best fit for the RS fenders would be a custom installation. This will allow us to fully wrap inside the fender vents and gas cap are for a seamless appearance and maximum coverage.
Film installed and precisely trimmed and wrapped for maximum coverage and no exposed edges.
Headlight surround edge wrapped and trimmed uniformly throughout. A proper film installation should look good even where you'll never look!
Bumper coverage we opted to utilize the Xpel designs with numerous design changes we made. This allows us to extend edges and coverage areas.
One of our signatures is the tow hook, we take this opportunity to custom trim and wrap the film into the tow hook opening and around the tow hook itself. This gives maximum coverage and no visible edges.
Rear bumper installation, we opted to install the film over the OEM decals thus ensuring 100% OEM appearance.
Filmed installed and edges all heat sealed.